Brilliant Cream 150ML
$10.00 USD $13.00
Unavailable
Brilliant Cream 150ML - 150ML is backordered and will ship as soon as it is back in stock.
---
---
The Product
Keep your hair looking and feeling its best with L3VEL3 Brilliant Cream. This lightweight cream delivers salon-level sleekness and shine, taming frizz and flyaways for up to 24 hours. Infused with Provitamins, your hair will become stronger, healthier and more hydrated with use. Get ready to dazzle, knowing that you can get the look you want with one easy product.
Enriched with provitamins to protect & hydrate
Easy to work with
Leaves no visible residue
Who Is It For?
For those looking for a sleek texture and lasting hold
What Does It Do?
Moisturizes, hydrates, refreshes
Protects against nicks and cuts
Reduces redness
How Do You Use It?
Scoop a small amount of cream into your palms
Apply the cream to wet hair before blow-drying
Work the cream through with your fingers
The Brand
L3VEL3™ is a brand founded by artists, with a mission to offer professional grooming products that deliver guaranteed results. The brand is deeply rooted in the barbering industry and is committed to uplifting it to the same level as the salon industry. Their focus is on providing high-quality grooming options for men and barbers, aiming to make these products accessible to everyone.
The brand's journey began in 2011 when they noticed a lack of quality men's grooming products in the market. They built strong relationships with influential artists like A-Rod, Los Cut It, and Mr. Official who shared their vision. Together, they worked on developing exclusive products that could be used in both barbershops and at home to achieve professional-level results.
The Ingredient List
Ever Wanted to Work at a Barbershop?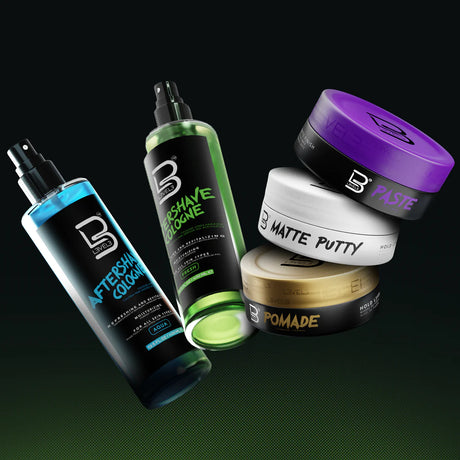 Explore L3VEL3
If You Think It's Fun Going to a Barbershop
TRY OWNING ONE