Light Hold Styling Powder 30G
$10.00 USD $13.00
Unavailable
Light Hold Styling Powder 30G - 30G is backordered and will ship as soon as it is back in stock.
---
---
The Product
Experience superior hairstyling with L3VEL3's Light Hold Styling Powder. This unique powder provides a light hold and a modern matte finish, giving you a natural or edgy look with perfect volume. Suitable for men and women, the flexible formula delivers a long-lasting hold without stiffness for effortless and beautiful hair styling.
Matte finish

No residue or clumping
Re-workable styles
Washes out easily
Who Is It For?
Suitable for all hair types
What Does It Do?
Provides texture & volume

Light hold suitable for anyone
Creates a matte finish
How Do You Use It?
Lightly sprinkle the styling powder into your palms or directly onto hair
Evenly distribute the powder throughout your hair using your fingertips
Gently rub the powder into your hair to create the desired volume and texture
The Brand
L3VEL3™ is a brand founded by artists, with a mission to offer professional grooming products that deliver guaranteed results. The brand is deeply rooted in the barbering industry and is committed to uplifting it to the same level as the salon industry. Their focus is on providing high-quality grooming options for men and barbers, aiming to make these products accessible to everyone.
The brand's journey began in 2011 when they noticed a lack of quality men's grooming products in the market. They built strong relationships with influential artists like A-Rod, Los Cut It, and Mr. Official who shared their vision. Together, they worked on developing exclusive products that could be used in both barbershops and at home to achieve professional-level results.
The Ingredient List
Ever Wanted to Work at a Barbershop?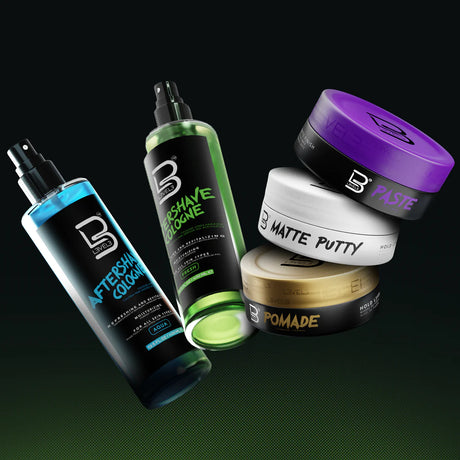 Explore L3VEL3
If You Think It's Fun Going to a Barbershop
TRY OWNING ONE