Titanium Gold Barber Thinners - 7"
$96.00 USD $192.00
Unavailable
Titanium Gold Barber Thinners - 7" is backordered and will ship as soon as it is back in stock.
---
---
The Product
The BaBylissPRO Titanium Gold Barber Thinners - 7" are for those wanting durable and superb cutting. Made from Japanese 440C Stainless Steel and equipped with very sharp, convex edges, these shears require less force and provide a more precise cutting experience. The offset handle reduces the overextension of the thumb, allowing for a more related a natural position. (model # FXGBT7)
45 teeth

Integrated finger rest
Electro titanium gold coating 
Flat screw for precise individual tension adjustments
Who Is It For?
Anyone wants to thin hair with precision 
What Does It Do?
The Brand
BaBylissPRO believes that stylists know quality tools and how best to use them. They also know what it takes to make their clients happy – looking good and feeling good. Their mission is to help inspire creativity by providing stylists with the highest quality, most efficient and reliable tools to meet their goals – and a product line versatile enough to satisfy individual preferences. Their appreciation for the stylist's art drives BaBylissPRO's constant search for the best, most innovative new tools in the world. They are committed to every stylist's success – whether working in a salon, teaching the next styling star or competing internationally for Canada.
Ever Wanted to Work at a Barbershop?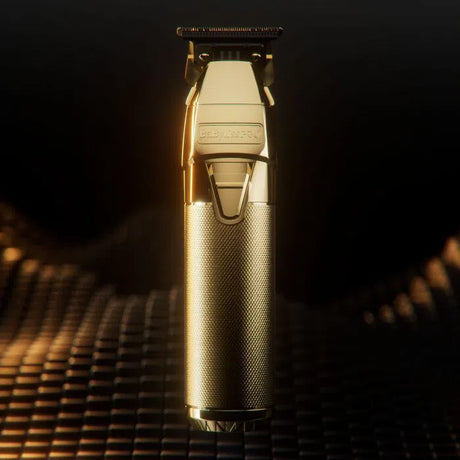 Explore BaBylissPRO
BaBylissPRO offers a diverse range of products with state-of-the-art technology to meet a variety of stylists' needs. It is inspired by European design and is classic in its mood and style. It is a professional brand that has become a world leader because it is innovative, powerful and accessible.
If You Think It's Fun Going to a Barbershop
TRY OWNING ONE