Crystal Dreams Bath Salts
$11.00 USD $15.00
Unavailable
Crystal Dreams Bath Salts - 225G is backordered and will ship as soon as it is back in stock.
---
---
The Product
Reset and find peace with Crystal Hills Crystal Dreams Bath Salts. Formulated with a blend of Dead Sea Salt and notes of Lavender, Ylang Ylang and Geranium Essential Oils, these bath salts will transform your bath into a personal spa while the Amethyst Crystals provide the perfect prelude to a restful nights sleep so you wake up calm, refreshed and relaxed.
Contains Dead Sea Salt
Lavender, Ylang Ylang and Geranium scented 
Contains an Amethyst Crystal
Featured in the Official Emmy Bags
What does it do?
Soothing and relaxing
Reduces inflammation

Relieves muscle pain
Eases psoriasis and arthritis
Cruelty-free
All-natural
Wheat-free, dairy-free, nut-free
How do you use it?
Add a scoop to your bath and enjoy

The Brand
Crystal Hills helps you manifest more love, confidence, and abundance with their intentional beauty products. Many of the ingredients in Crystal Hills Organics products are derived from their own backyard! Fresh flowers and herbs are grown on their certified organic farm and blended with high-vibration crystals to nourish your skin and soothe your soul. Keep your energy positive and your thoughts serene, as you set your intentions to manifest more goodness in your life.
Mother Nature provides the botanicals, herbs, and crystals for their products and Crystal Hills pays it forward with 8% of their profits donated to various local charities.
Crystal Hills Organics has been in the Official Emmy Bags, Official Grammy Bags, Mother's Day in Hollywood Event and The Festival Trend Bags at Coachella.
The Ingredient List
AMETHYST CRYSTALS SOLAR DRIED SEA SALT, EPSOM SALT, DENDRITIC SALT, SODIUM BICARBONATE, ALLANTOIN (SKIN MOISTURIZER), PANTHENOL (PROVITAMIN B5), ORGANIC LAVENDER BUDS, ORGANIC ROSE PETALS, ORGANIC CHAMOMILE FLOWERS, ORGANIC ROSEMARY LEAVES, ORGANIC VIOLET LEAVES, AND A PROPRIETARY BLEND OF ESSENTIAL OILS INCLUDING ORGANIC LAVENDER, ORGANIC YLANG YLANG AND ORGANIC GERANIUM
Ever Wanted to Work at a Barbershop?
Check out more from Crystal Hills Organics
View all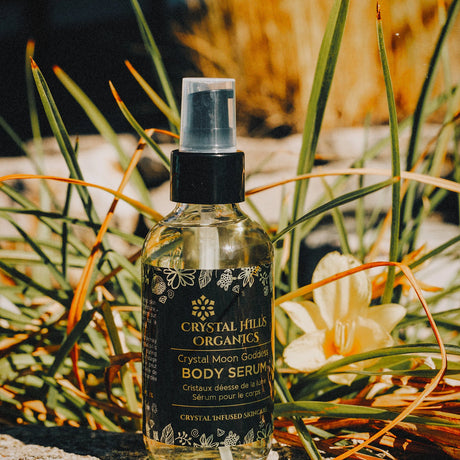 Explore Crystal Hills Organics
If You Think It's Fun Going to a Barbershop
TRY OWNING ONE