Crystal Harmony Body Serum
$33.00 USD $37.00
Unavailable
Crystal Harmony Body Serum - 120ML is backordered and will ship as soon as it is back in stock.
---
---
The Product
Re-balance while nourishing your skin with Crystal Hills Crystal Harmony Body Serum. This luxurious serum will manifest abundance and peace while starting your day off on a high note that will flow harmoniously through your day. Notes of Pink Grapefruit, Organic Sweet Orange and Vanilla Essential Oils create a refreshing aromatherapy experience. Formulated with Moringa Oil, Coconut Oil, Jojoba Oil, Calendula Extract and Green Tea, this nurturing body serum will rejuvenate your body while the Green Quartz Crystal, known as the stone of opportunity, will balance your spirit.
Cruelty-free
All-natural
Wheat-free, dairy-free, nut-free
Pink Grapefruit, Sweet Orange and Vanilla scented
Contains Green Quartz crystal
What does it do?
Revitalizing and nourishing

Reduces inflammation
Balancing
How do you use it?
Apply to body as needed, concentrating on dry areas

The Brand
Crystal Hills helps you manifest more love, confidence, and abundance with their intentional beauty products. Many of the ingredients in Crystal Hills Organics products are derived from their own backyard! Fresh flowers and herbs are grown on their certified organic farm and blended with high-vibration crystals to nourish your skin and soothe your soul. Keep your energy positive and your thoughts serene, as you set your intentions to manifest more goodness in your life.
Mother Nature provides the botanicals, herbs, and crystals for their products and Crystal Hills pays it forward with 8% of their profits donated to various local charities.
Crystal Hills Organics has been in the Official Emmy Bags, Official Grammy Bags, Mother's Day in Hollywood Event and The Festival Trend Bags at Coachella.
The Ingredient List
GREEN AVENTURINE QUARTZ CRYSTAL, COCONUT OIL, CALENDULA FLOWER EXTRACT, MORINGA SEED OIL, ORGANIC JOJOBA SEED OIL, GREEN TEA LEAF EXTRACT, ELDERBERRY FRUIT EXTRACT, AND A PROPRIETARY BLEND OF ESSENTIAL OILS INCLUDING PINK GRAPEFRUIT, ORGANIC SWEET ORANGE AND VANILLA

Ever Wanted to Work at a Barbershop?
Check out more from Crystal Hills Organics
View all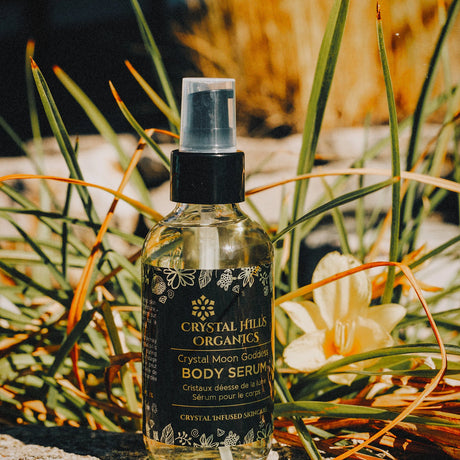 Explore Crystal Hills Organics
If You Think It's Fun Going to a Barbershop
TRY OWNING ONE