Next-Level Repair Trio
$79.00 USD $99.00
Unavailable
Next-Level Repair Trio is backordered and will ship as soon as it is back in stock.
---
---
The Product
K18 Biomimetic Hair Science Next-Level Repair Trio is the perfect kit to repair damaged hair. It contains the Peptide Prep Detox Shampoo to ensure your hair is free of any chemicals, dirt, oil and product build up, the Hair Mask is heaven in a bottle, this petite but fast acting hair mask help repair all signs of damage in just under 4 minutes, while the Repair Hair Oil provides maximum strength to your damaged locks and giving it a smooth and healthy shine. 

Dermatologist-tested
Contains no fillers
Vegan and Cruelty-free
Sulfate-free, Paraben-free, Phthalate-free, Silicone-free, Sodium Chloride-free
Formaldehyde-free
Free of artificial colours
Kit Includes:
Peptide Prep Detox Shampoo 250ml
Leave-in Molecular Mask 50ml
Molecular Repair Hair Oil 10ml
Who is it for?
Dry & damaged hair
Safe for all hair types
What Does it Do?
Deep cleanses the hair and scalp to remove dirt, oil, metals and product buildup without stripping the hair 
Shampoo is pH 3.8-4.2
Repairs damage from bleach, colour, chemicals and heat
Improves elasticity and restores strength
Restore softness and smoothness
Enhances bounce
Reverses frizz-causing damage
Reduces frizz + flyaways
Enhances shine + color vibrancy
Delivers heat protection
Colour-safe
Safe for everyday use
Non-stripping formula
Non-sensitizing
Colour-safe
Standout Ingredients
K18Peptide

 

reduces protein loss that can occur during washing to keep the hair soft, strong, healthy and clean
Activated Charcoal

 

absorbs toxins, excess oils and dirt in the hair and scalp

Salicylic Acid

 

clears sebum buildup in follicles without stripping the hair of essential moisture and lipids
Aromas
How Do You Use it?
Shampoo: Swap out your regular shampoo once a week or as needed. Massage into the hair and scalp to remove build-up. Thoroughly rinse and repeat as needed
Hair Mask: In the Shower: Wash hair using a clarifying shampoo to remove build-up. Shampoo, do not condition. Out of Shower: Towel dry thoroughly. Apply 1 pump of the K18 Mask and add more as needed depending on length, thickness and condition. Work evenly into the hair from ends to roots - one pump at a time. Let sit for 4 minutes to activate before styling or applying other products. DO NOT rinse out, Style as usual. Use every 4-6 shampoos consecutively for ongoing results

Hair Oil: Apply to damp, towel-dried hair before styling, or on dry hair as a finisher. Highly concentrated formula. Start with 1-3 drops and build as needed. Pro Tip:

 

Got the

 

K18 molecular repair mask?

 

wait 4 minutes. Apply the molecular repair hair oil, and wait 4 minutes for maximum strengthening results
Ever Wanted to Work at a Barbershop?
Check out more from K18 Biomimetic Hair Science
View all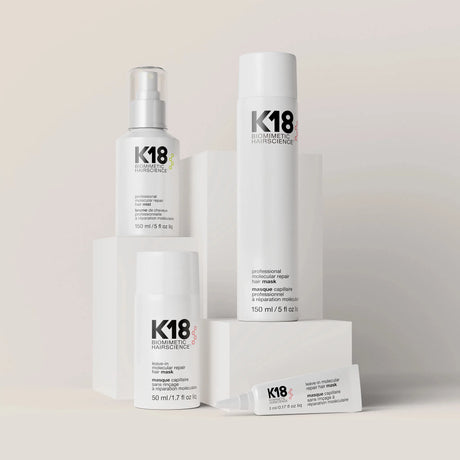 Explore K18 Biomimetic Hair Science
K18 starts with biomimetic hair science, leading the haircare revolution through their patented K18Peptide™ - offering long-lasting results that actually make the hair look and feel like new. Their mission is to liberate your hair from the constraints of modern haircare and empower you with science and unlock fearlessness in self-expression. K18 is creativity with no limits, no compromise and to see what's possible.
If You Think It's Fun Going to a Barbershop
TRY OWNING ONE