Transparent Shaving Gel 500ML
$10.00 USD $13.00
Unavailable
Transparent Shaving Gel 500ML - 500ML / Aqua is backordered and will ship as soon as it is back in stock.
---
---
The Product
Introducing L3VEL3 Transparent Shaving Gel. The advanced formula contains hydrating and protective ingredients. This transparent, non-foaming gel allows you to easily monitor your shave, reducing the risk of irritation and nicks. Experience a closer, easier shave with improved results and no razor burns. Upgrade your shave and get the best results.
Non-foaming gel
Moisturizes skin
Prevents cuts & razor burn
Who Is It For?
What Does It Do?
Clear gel makes it easy to see the skin

Lubricates and moisturizes the skin
Creates a protective layer to reduce irritation
How Do You Use It?
Place a small amount of pomade in your palms
Rub your hands in a circular motion to warm the pomade
Apply evenly throughout the hair to create your desired style
The Brand
L3VEL3™ is a brand founded by artists, with a mission to offer professional grooming products that deliver guaranteed results. The brand is deeply rooted in the barbering industry and is committed to uplifting it to the same level as the salon industry. Their focus is on providing high-quality grooming options for men and barbers, aiming to make these products accessible to everyone.
The brand's journey began in 2011 when they noticed a lack of quality men's grooming products in the market. They built strong relationships with influential artists like A-Rod, Los Cut It, and Mr. Official who shared their vision. Together, they worked on developing exclusive products that could be used in both barbershops and at home to achieve professional-level results.
The Ingredient List
AQUA , GLYCERIN , TRIETHANOLAMINE, CARBOMER ,PARFUM , MAGNESIUM CHLORIDE, MAGNESIUM NITRATE , PEG-90M, METHYLCHLOROISOTHIAZOLINONE, METHLYISOTHIAZOLINONE, CI 42090
Ever Wanted to Work at a Barbershop?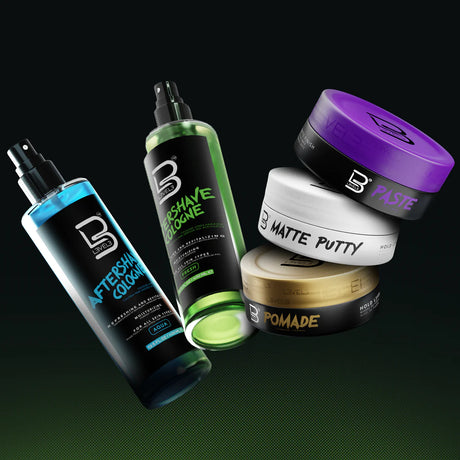 Explore L3VEL3
If You Think It's Fun Going to a Barbershop
TRY OWNING ONE