Dye Away Wipes (50 Pack)
$10.00 USD $13.00
Unavailable
Dye Away Wipes (50 Pack) - 50 Pack is backordered and will ship as soon as it is back in stock.
---
---
Product
Manic Panic Dye Away Wipes (50 pack) contains gentle, ammonia-free hair colour removing wipes. They easily remove semi-permanent and permanent hair colour from the skin, neck and ears - ensuring your colour stays on your hair, not your face. Its non-irritating, pre-moistened towelettes are packaged in a dispenser canister to easily pull wipes as needed and contain a floral cupcake scent.
Hair Type
Worth Noting
Removes any hair colour stains (semi-permanent and permanent)
Gentle and non-irritating on the skin
Floral cupcake scent
Comes in an easy pull dispenser canister
50 pieces
Ammonia-free
Gluten-free
Paraben-free, Phthalate-free
100% Vegan and Cruelty-free
Aromas
How-To
Dispense towelettes as needed and use to wipe any type of hair colour off skin - neck, ears, face, fingers
Details
Vegan and cruelty-free since 1977, Manic Panic is the trailblazing beauty brand that started the vivid hair colour revolution in the USA over 4 decades ago. Their mission has been to share a rainbow vision of Peace, Love and Glamour throughout the universe while staying true to their core beliefs. Charitable before it was lit, Manic Panic donates as much as possible every year (a minimum of 15% of our net profits!) to various charities including BCRF, PETA and The World Wildlife Fund. #DyeForPeace
Manic Panic never compromises. You can always expect the highest quality and integrity from anything that bears the Manic Panic name. For 43 years, Manic Panic has been fiercely and independently women-owned and operated by founders/sisters/singers/philanthropists Tish & Snooky Bellomo. #TishAndSnooky
From its glam, punk, and rock roots to its iconic position today in pop culture and fashion, the original Badass Beauty Brand invites everyone to unleash your inner rainbow. #LiveFastAndDyeYourHair
Ingredient List
AQUA, PHENETHYL ALCOHOL, PPG-2 METHYL ETHER, DISODIUM LAURETH SULFOSUCCINATE, ALCOHOL DENATE, SODIUM BICARBONATE, TRIETHANOLAMINE, GLYCERIN, HYDRATED SILICA, PROPYLENE GLYCOL, PARFUM, PHENOXYETHANOL, COCAMIDOPROPYL BETAINE, SORBITAN OLEATE, POLYSORBATE 80, SODIUM CHLORIDE, ETHYLHEXYLGLYCERIN, ALLANTOIN, BISABOLOL, ALOE BARBADENSIS LEAF WATER, PANTHENOL, POLYAMINOPROPYL BIGUANIDE, SODIUM BENZOATE, COCONUT ACID, XANTHAM GUM, BENZYL ALCOHOL, POTASSIUM SORBATE ISOEUGENOL, HYDROXYCLTRONELLAL
Ever Wanted to Work at a Barbershop?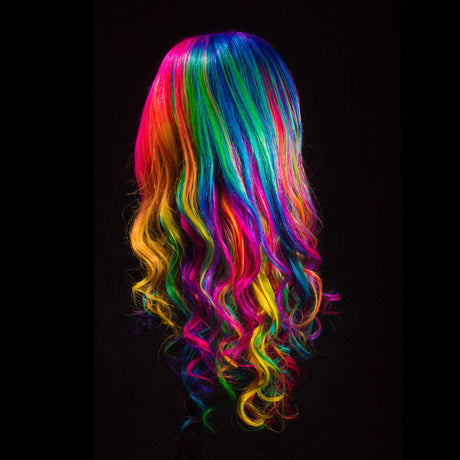 Explore Manic Panic
Vegan and cruelty-free since 1977, Manic Panic is the trailblazing beauty brand that started the vivid hair colour revolution in the USA over 4 decades ago. Their mission has been to share a rainbow vision of Peace, Love and Glamour throughout the universe while staying true to their core beliefs. Charitable before it was lit, Manic Panic donates as much as possible every year to various charities including BCRF, PETA and The World Wildlife Fund. #DyeForPeace
If You Think It's Fun Going to a Barbershop
TRY OWNING ONE