Pearl and Jasmine Facial Mask
Pearl and Jasmine Facial Mask - 10G is backordered and will ship as soon as it is back in stock.
---
---
The Product
Reveal smooth and radiant skin with the Crystal Hills Pearl and Jasmine Facial Mask. This luxurious mask is packed with nutrients, antioxidants, anti-inflammatories and minerals to support an overall healthy complexion. Formulated with Pearl Powder to promote collagen production, Kaolin Clay to cleanse and purify, Microfine Botanicals to gently nourish and exfoliate the skin, plus Hyaluronic Acid to improve hydration and the overall texture of your skin. This facial mask will help defend against pollutants, repair damaged skin cells, reduce the appearance of fine lines and wrinkles, reduce pore size, brights and soften while also increasing moisture retention. This face mask is in powder form to prevent the addition of any preservatives and to prolong the lifetime of the active ingredients.
Cruelty-free
All-natural
Powder form
What does it do?
Smooths and improves skin texture

Diminishes fine lines and wrinkles
Reduces pore size
Repairs damage and protects the skin
How do you use it?
Mix up to a teaspoon of the dry powder mask with water - adding a few drops at a tip until the desired consistency is reached
Apply to clean skin then leave on until partially dry (approximately 5-7 minutes) *do not leave on until completely dry and cracking
Re-moisten the mask using gentle circular motions
Rinse completely then pat dry
Follow with your favourite moisturizer
Use 1-2 times per week
The Brand
Crystal Hills helps you manifest more love, confidence, and abundance with their intentional beauty products. Many of the ingredients in Crystal Hills Organics products are derived from their own backyard! Fresh flowers and herbs are grown on their certified organic farm and blended with high-vibration crystals to nourish your skin and soothe your soul. Keep your energy positive and your thoughts serene, as you set your intentions to manifest more goodness in your life.
Mother Nature provides the botanicals, herbs, and crystals for their products and Crystal Hills pays it forward with 8% of their profits donated to various local charities.
Crystal Hills Organics has been in the Official Emmy Bags, Official Grammy Bags, Mother's Day in Hollywood Event and The Festival Trend Bags at Coachella.
Ever Wanted to Work at a Barbershop?
Check out more from Crystal Hills Organics
View all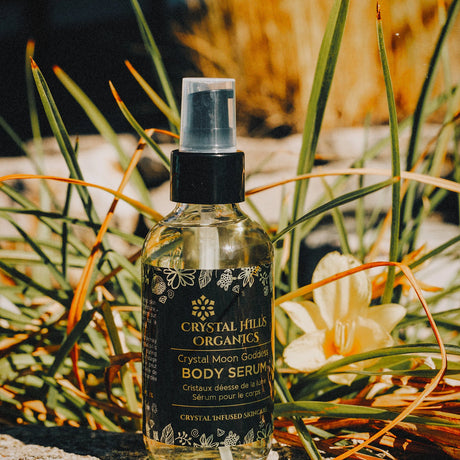 Explore Crystal Hills Organics
If You Think It's Fun Going to a Barbershop
TRY OWNING ONE