Tobacco & Vanilla Beard Oil
$20.00 USD $29.00
Unavailable
Tobacco & Vanilla Beard Oil - 30ML is backordered and will ship as soon as it is back in stock.
---
---
The Product
The Bearded Chap Tobacco & Vanilla Beard Oil is for those wanting to maintain their beard. This award-winning beard oil uses a combination of 11 base and essential oils, using only the finest oils sourced from around the world. Its quick-absorbing formula leaves behind no unnecessary grease or product build-up while keeping your facial hair hydrated and moisturized all day. Enjoy the dark and spicy Tobacco notes mixed with the sweet highlights of Vanilla, Tonka bean, and just a touch of leather and wood. Suitable for year-round use on those with light and heavy stubble to full beards. 
Made from natural ingredients 
Spicy Tobacco with sweet Vanilla scent 

Non-greasy formula 
Who Is It For?
Those wanting to maintain their beards 

What Does It Do?
Moisturizes the hair and skin 
Reduces beard itch and dandruff 
Softens facial hair 
How Do You Use It?
Apply 4-6 drops of grooming oil in the palm of your hands after washing your beard 
Rub into hands and massage upward into the beard and skin, making sure to get under chin and cheeks 
To finish, groom your beard down and style as usual  

The Brand
The Bearded Chap started from humble beginnings as Australia's first beard grooming product company in February 2013. Today, The Bearded Chap has customers in over 51 countries around the world with a full scope of luxury men's grooming products for beard, body and hair grooming. Their products are handcrafted from natural, locally sourced ingredients and manufactured in their very own factory in Brisbane, Australia. 
With attention to quality and craftsmanship, their products are recognized and awarded on an international level - loved by barbers and gentlemen around the world. The Bearded Chap strives for their customer to look and feel their best selves and be ready to go out and crush the world. 
The Ingredient List 
GRAPESEED OIL (VITIS VINIFERA), HEMP SEED OIL (*CANNABIS SATIVIA), JOJOBA OIL (SIMMONDSIA CHINENSIS), ALMOND SWEET OIL (PRUNUS DULCIS), ROSE HIP OIL (ROSA EGLANTERIA),TOBACCO, VANILLA, DARK VANILLA & OUD WOOD ESSENTIAL OIL BLEND
Ever Wanted to Work at a Barbershop?
Check out more from The Bearded Chap
View all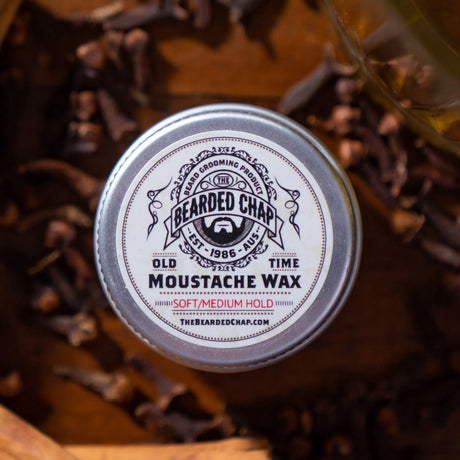 Explore The Bearded Chap
If You Think It's Fun Going to a Barbershop
TRY OWNING ONE